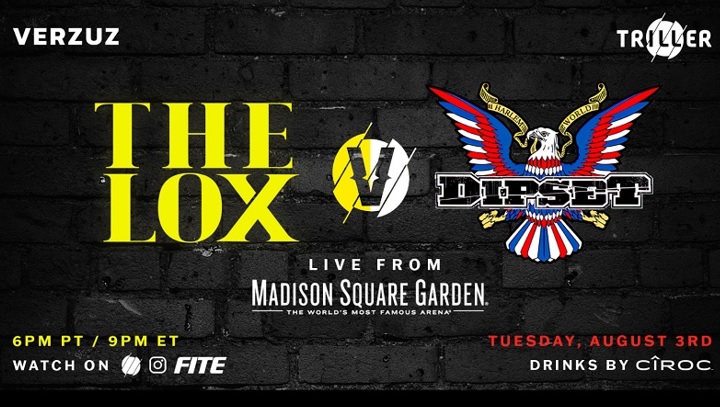 The Lox Verzuz Dipset battle put on for the culture of Hip Hop in a way it hasn't been seen like that for quite a while. Both rap groups brought out their best, with classic jams you know/love over the many years, but The Lox proved too much of a problem for Harlem's own Dipset. Some Hip Hop fans are saying it wasn't even a close call, giving the battle to The Lox by a landslide.
Dipset held out a lot of their classic material that could've easily made this battle close, but for some reason or another, they held back. Looking at the bright side of things for Dipset is that these guys are no slouches and have managed to capture two generations, which is hard to do when you're only given a 5-year run in Hip Hop.
Both groups have announced that a nationwide tour called the Rap Superheroes Tour alongside Philly rap legend Beanie Sigel and State Property. When will this mega event take place? The tour kicks off September 16, 2021, in ATL before hitting the road in other cities/states.
Check out some reactions from Twitter of last night's Verzuz between The Lox & Dipset, followed by a list of dates below.
September 16 ― Atlanta, Georgia (Gas South District)
September 17 ― Orlando, Florida (Addition Financial Arena)
September 21 ― Baton Rouge, Louisiana (Baton Rouge River Center)
September 23 ― Austin, Texas (HEB Center)
September 25 ― Houston, Texas (NRG Arena)
September 30 ― Chicago, Illinois (Credit Union 1 Arena)
October 1  ― Milwaukee, Wisconsin (Miller High Life Theater)
Jada said Freaky Zeeky the fat nigga from Dru Hill ????????????????????#LOXvsDipset #verzuzbattle I'm dead

— YoungOldMan (@YoungOldMan1385) August 4, 2021
The Lox and $MUNCH will always come out on top ?? .. Just look at Jada's pendant ?? #MunchMeme #LOXvsDipset #RapLegends #NYC #verzuzbattle pic.twitter.com/0TB70AUkZY

— ?X CINCO (@dnyc7181) August 4, 2021
So let me get this straight. There's ninjas in this world RIGHT now who's ears told them that Dipset had more bangers than the Lox? Word? Yall Know Kiss catalog alone win. In my best new york accent… "Yall mad bonkers son" ?✌? #LOXvsDipset

— A3rdGenerationsView (@Youngry_OhBUCC) August 4, 2021
"I don't care who shot you cuz they ain't killed ya!" #JadaKiss is the #Thanos of this #VerzuzTv shit. #Verzuz #LOXvsDipset #DipsetVsLox https://t.co/fRbguU4OpA

— Gabby F. Baby (@kawaii_Kunai007) August 4, 2021
What a show this was, love both Dipset and Lox but Jadakiss proved why he's top 5 dead or alive as an MC and the The Lox have hits for days, more one sided than the Palace vs Brighton rivalry, hip hop at its best @Therealkiss #verzuzbattle #LOXvsDipset @thelox https://t.co/Nh8gtAtOWx

— Thomas Barker (@Tommy20316) August 4, 2021
Lox vs. DIPSET is by far the best Verzus battle for me. Grew up listening to theses dudes. Had me on ten ? The wisdom kept me grounded! #LOXvsDipset #VERZUS

— 11:11 ? (@Cfellathegreat) August 4, 2021
This why I still listen to shit like this. It's neva gon be da same. #LOXvsDipset https://t.co/8LPBAoilau

— BRØWN §UGGA™ (@BR0WNSUGGA) August 4, 2021
Who would you all like to see in the next Verzuz battle? Chris Brown Verzuz Usher would be insane! You would have to put these two in a football stadium if that were to happen, because both artists have accumulated countless number one hits.