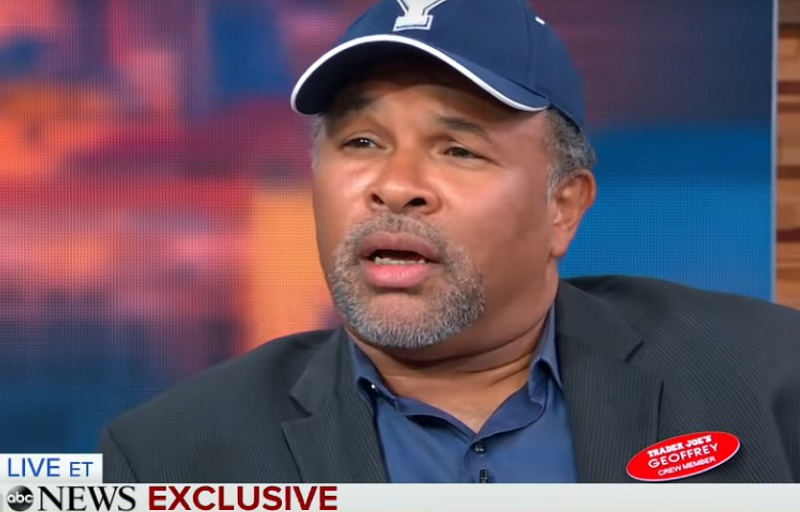 Geoffrey Owens, 57, has made media headlines when a photograph of the former Cosby Show actor was seen working a day-job at Trader Joe's. While some stood in support of the Owens making an honest living for himself and family, others shamed him for being on one of the greatest family TV shows of all time to a cashier at Trader Joe's. Good morning America's anchor Robin Roberts took the pleasure in interviewing Geoffrey and here's a little of what he had to say about it below, followed by visual footage.
Robin Roberts: So many people speaking out on your behalf, people you don't know and fellow actors. What's that feeling like?
Geoffrey Owens:You know what, it's really overwhelming in a good way. I kind of feel like that character in that Woody Allen movie that wakes up one morning and he's a celebrity all of a sudden and has no idea where it came from. It came out of nowhere.
Owens went on to thank family, friends and Hollywood for their mass support amid day-job shaming ridicule. There's also been reports that Hollywood giant Tyler Perry reached out to Owens to appear on OWN's "The Haves and The Have Nots" which is on it's 6th season and is said to begin filming next week.
Now would you just look at GOD! Don't you just love feel good stories? I know I do. Video below, Congrats to Geoffrey Owens.
#GeoffreyOwens I'm about to start shootings OWN's number one drama next week! Come join us!!! I have so much respect for people who hustle between gigs. The measure of a true artist.

— Tyler Perry (@tylerperry) September 4, 2018