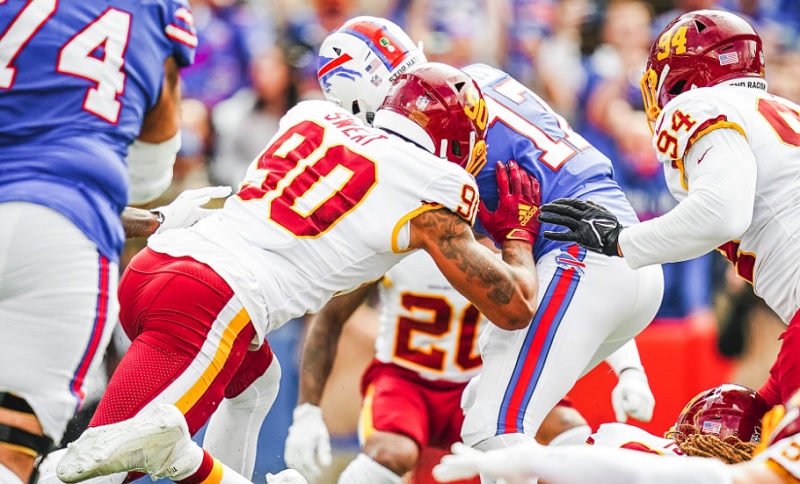 There are several different headlines floating around the internet suggesting that the Washington Football team aren't as real as they seemed to be, and as a life-long fan, I highly disagree with those notions, and here's why: This Washington team is still in the early rebuilding stages on top of culture change, and these things take time.
Last year, W.F.T barely made it to the playoffs in Ron Rivera's first year as head coach, and even then blocks were being built right up under public opinion's noses.
Is the Washington Football team a group of competitors? Absolutely, and here are the facts: The offense has explosive weapons to get the job done, and the defense is a monster. Yeah, Washington's defense is foreal, it just has more work to do and it'll come with time.
Does this team have their quarterback of the future? If we're talking about Taylor Heinicke, he's a work in progress. We're talking about a guy that barely gotten any reps, let alone have playing experience in the NFL, so to throw Taylor under the bus because of his lack of game experience would be downright blasphemous and unfair.
What is Washington looking for in a football team? One can easily make the case that the team they played and lost to on 9/26/2021 is the perfect example Washington can be once all the pieces are in place. Washington fell hard to a Championship team in the Buffalo Bills 43-21, and I'm not at all surprised this happened.
In fact, I'm willing to give Ron's plan another 2 to 3 years before any significant changes are to take place with this team. Washington has another road trip against the Atlanta Falcons on October 3, 2021, at 1:00 PM, in which Atlanta fans are gonna be super loud, so Washington can expect the same hostile environment.
Photo Cred: (Emilee Fails/Washington Football Team)
Rumble, young man, rumble

? » #WASvsBUF | @AntonioGibson14 pic.twitter.com/jnNs677aMv

— Washington Football Team (@WashingtonNFL) September 26, 2021