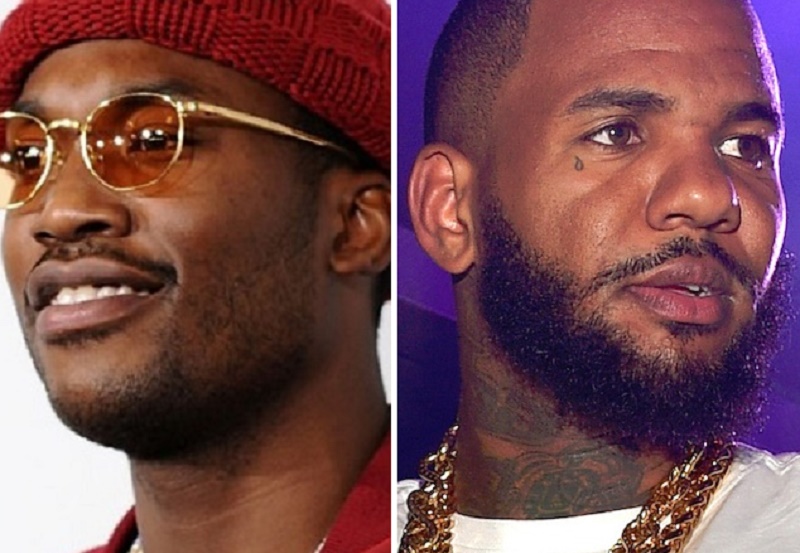 I'm sure everybody has heard about Meek Mill and The Game beef on wax by now beings though it's has gone viral for days. How it started between the two was a head-scratcher for me until The Game revealed his gripe publicly, stating that Meek gave cops information surround Sean Kingston's robbery. Reports has surfaced that Kingston's lawyers debunked Game's claim of Meek Mill telling the cops a story, but Compton, C.A. M.C. refuses to buy any of it. So far so good there's been a total of three diss tracks with two coming from the Game and 1 from Meek Mill. Legendary battle-rap on wax MC Beanie Sigel threw in his hat in support of his fellow Philly native and as he should.
Gillie Da Kid threw in his 2 Cents stating "Somebody Gotta Die" referring to Game and Meek beef, and I'm like "Dude, Really?" . The Game's latest diss track to Meek "Pest Control" he goes all the way in talking about Omelly, Beanie Sigel, and mentions he didn't have to go and get Kendrick Lamar, Snoop Dogg, Dr Dre and Nipsey Hussle to fight his battles. He do have a point, however, will all of those great artist he named on the Westcoast be willing to jump into this beef? I can name one artist from Compton off the top that will ride for The Game and that's the "Still Krazy" rapper Y.G.
On Meek's diss record "Ouu Remix" he did 100% better than how he handled himself with Drake. Meek got his booty chewed up for not responding to Drake fast enough, plus not given his all like we know he can do. However, weeks later Meek dropped several Diss records towards Drake and hasn't let up since. The Game has a lot to think about with this beef. What's that? Well this ain't mid 2000's where he caught G-Unit rappers off guard with a scathing 300 bars which was classic in my opinion, but in 2016 The Game is gonna need more than two or three diss records to make these Meek Mill and other Philly artist go away.
Since Beanie Sigel was called out by game on social media and dissed on wax, do you think Beanie Sigel will respond with a scathing diss record of his own? The answer is yes if you're asking me. Beanie Sigel had beef with several big name rappers with one notable being "Top 5 Dead Or Alive" rapper Jadakiss. So it'll be a sparring match once Beans decides to get in the booth and remind competition that this is what he do.
The Game surely got his hands full with this one for multiple reasons not even concerning his latest beef on Wax. A couple years ago the world witness one of the most brutal beat-downs on social media when Game filmed himself giving artist 40 Glocc body-head-shots in which he later got sued for. Out of know where comes 40 Glocc like Benny Blanco from the Bronx to bring up Game and Snoop's meeting with the police. Are you serious? Yes I'm serious and this could give Meek Mill ammunition and other enemies of Game's to use that against him.
When tensions where high between law enforcement and Black / Latinos in America, The Game and Snoop dogg held their own peaceful protest followed by some dialogue to build better relations. Should that be used against Game? No way. It was so chaotic during those times that Americans thought we was headed for civil war and somebody somewhere had to do something. Just my opinion.
Speaking of which, Social media is expressing their on-going pain and grief over another Black Man that was shot by an officer because of the way he looked. His name is Terence Crutcher, a father, a pastor and a loving man. Meek Mill clearly frustrated at these recurrences of Police shooting black men and here's what he had to say about it below.
I Just Seen A Terrorist Survive A Shootout With The Police After Blowing Some Shit Up And Later On That Day A Black Man Shot Down For No Reason At All! "I Never Believed In America" The Land Where They Will Take Ya House And Put Your Kids Out On The for some owed tax money. Where they giving out 30 years sentences for non-violent crimes to mostly black offenders. I Don't think I will ever vote. That stuff never felt like it was for me or my people".
He said more on his Instagram post regarding the recent shooting of a unarmed black man, and I wonder where Game's take in all this? Should they put the beef on hold to address real issues we face today? It won't be fake BEEF to me if you put it on hold and keep it on wax. We do understand artist gotta make their music entertaining to fans. Their beef will still circulate like how it's been but it'll get smothered in the wake of another unarmed black man being shot by police. If I would these guys, I'd write my next disses, put'em in the stash until we can get some justice for black men here in a America.
In case you missed it, here's Game and Meek diss records below. Thanks for reading.
Like what you've read? Share it with your followers. Thank You