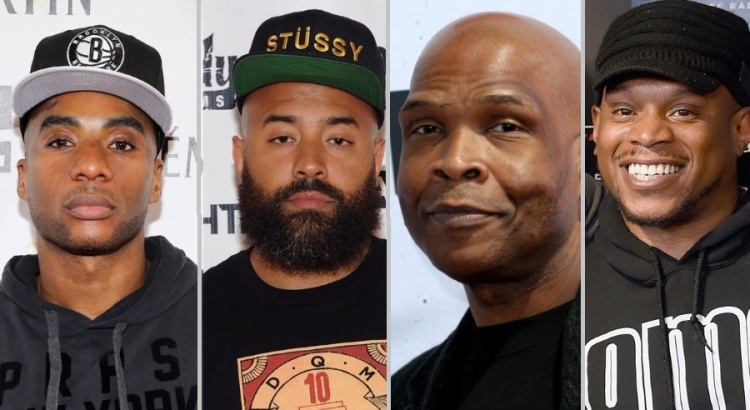 As a die-hard Hip Hop fan I appreciate and respect a culture that has been around well over 30 years changing the way we speak, fashion, etc. What I appreciate more about Hip Hop culture is we get to hear what's on the mind of some of your favorite artist by way of interview. Back in the day rappers being interview by magazines or radio stations were limited to mass majority of fans who wanted to stay in the know. A lot of people couldn't afford to pay for a magazine at your local stand or had the luxury of digging up radio interviews like it is now. Today all you have to do is either Google up an interview or surf over to YouTube to grab your interviews.
There's tons of radio publications online now and it makes it tough for the average viewer to decide which radio station they should tune in to. There's four stations on the net that's making hella noise though. Who are they? Sway Calloway's (Sway In The Morning), Ebro Darden's (Hot 97), Big Boy's (Neighborhood) and last but least Charlamagne Tha God's (The Breakfast Club). All four radio personalities are super-duper talented and have interviewed some of Hip Hop's greatest legends on their platform. But who's the better interviewer between the Four-Horseman?
Who do I like personally? Well this article isn't for me so I can't decide that and I know it sucks, which is why I'm leaving up to our readers to decided that. I'm gonna include in this article four of some of the best interviews these guys conducted followed by a poll to vote your favorite radio personality in. Remember, we're talking about the legendary Sway Calloway, Big Boy, Ebro and Mr. (Put you in the hot seat) Charlamagne Tha God'. Vote wisely, watch all four interviews and remember to leave a comment below. Thank you.
In 30 minutes @TechN9ne and @TwistaGMG are joining us as guest judges on #OneShotBET. Tune in on @BET! pic.twitter.com/MuvnrPNziG

— Sway Calloway (@RealSway) September 14, 2016
2Pac Party records ringing off #Beats1 World wide!!

— El Viejo Ebro (@oldmanebro) September 13, 2016
2 Timothy 2:22 "Flee the evil desires of youth and pursue righteousness, faith, love and peace,… https://t.co/3vkrUzpksW

— Charlamagne Tha God (@cthagod) September 14, 2016
This is "All Eyez on Me" star, Demetrius Shipp Jr.@dshippjr, Thank you for hanging in The… https://t.co/8ORxLE8vI4

— Big Boy (@BigBoy) September 13, 2016
Who's The Better Interviewer
Like what you've read? Share it with your followers. Thank You