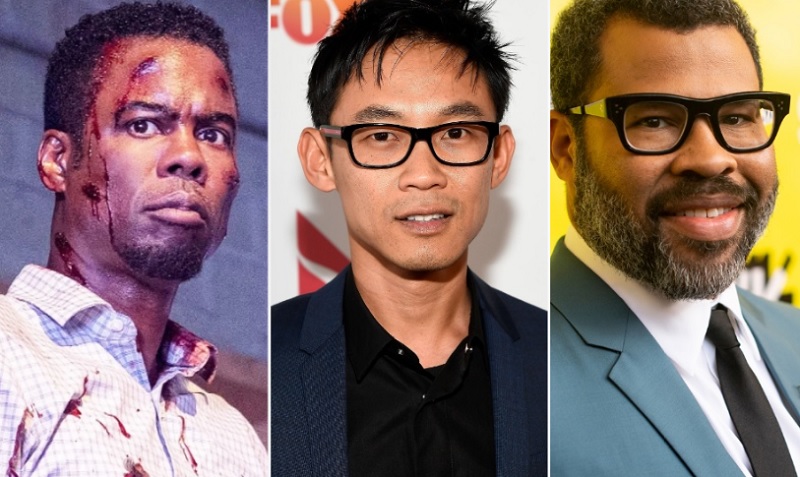 There's plenty of horror flicks movie-goers should go and check out this year, but here's my Top 3 movies that looks like it's gonna be worth your hard earned time & money. Movie number One: Spiral: From The Book Of Saw: Which is executively produced by actor/ comedian Chris Rock, co-starring Samuel L Jackson, Max Minghella and Marisol Nichols. The movie was originally scheduled for release May 15, 2020, but due to the Corona Virus it was put on hold. New release date for this film is set for May 14, 2021 which is 72-hours away.
Saw Fact: This will be the 9th installment to the long-running franchise but also it'll be the first time the film didn't make an October appearance.
If you're a fan of the franchise then you know what you're gonna get from the makers behind this film. The games that are being played in this movie may be fictional but it's definitely cringe-worthy enough to make you think what if there is some crazy fool out there making you play a game for your life? Should be great with Chris Rock and others vision the 9th time around.
Movie Number Two: The Conjuring: The Devil Made Me Do It : Directed by Michael Chaves, story by James Wan, David Leslie and Johnson-McGoldrick. The film original release date was originally slated for September 11,2020, but was put on hold due to Covid-19. New release date is set for June, 4, 2021.
The Conjuring: The Devil Made Me Do It Plot: The film is based on a true story of a 1981 murder that took place in which Arne Cheyenne Johnson told a courtroom that "The Devil Made Me Do It". It was the first known case in the United States where a defendant claimed his innocence due to being demonically possessed.
Movie Number Three: Candy Man: Directed By Jordan Peele, Nia DaCosta, Ian Cooper
and Win Rosenfeld. This is another highly anticipated film expected to hit the big screen June 2020, but the pandemic had other plans. New release date for this film is slated to hit theaters June, 27, 2021.
Candy Man Plot: The movie is based on a supernatural killer with a hook who only appeared when someone chanted his name five times in the mirror and after that someone became his victim. The film will return to a now gentrified beyond living conditions and inhabited by the upwardly mobile millennials. Read more here.
I've been given the go-ahead to talk about #Spiral & as a #SAW nerd, it absolutely lives up to the legacy of the series & what I wanted out of a movie from the SAW-iverse. It's a bold & bloody new direction & I'm so excited for y'all to see it later this week. It rules. Hard. pic.twitter.com/9tTOYStr0C

— Heather Wixson (@thehorrorchick) May 8, 2021
Evil is upon us. Based on the case files of Ed and Lorraine Warren, don't miss #TheConjuring: The Devil Made Me Do It, in theaters and streaming exclusively on @HBOMax* June 4. pic.twitter.com/5c8NpjTVAv

— The Conjuring (@TheConjuring) May 10, 2021
Like what you've read? Share it with your followers. Thank You