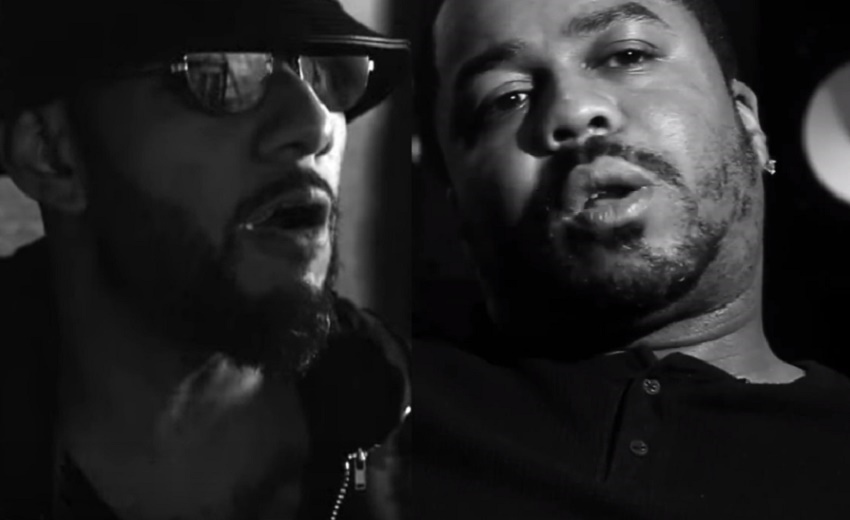 Battling in Hip Hop culture has been and will forever be one of the five elements that is required to show the world that you're proven who you say to be. Last night two of Hip Hop's super producers Swizz Beatz and Just Blaze squared off like nothing you've seen before. The battle was originally posted on IG and made it's way to YouTube LIVE. Hot 97's Ebro had the honor and privilege in filming the whole thing with Swizz's phone, and at times the video ran into buffering problems but that's expected when you're going live.
Busta Rhymes, Cassidy, and Ruff Ryders among other Hip Hop figures were there in support. Both beat makers shared a lot of their hits from DMX, Jay-Z, Beyonce, T.I. The Lox, Jadakiss and more. Who won this battle between Swizz Beatz and Just Blaze? Swizz Beatz and here's why.
Swizzy got so many hits under his belt he didn't have to spin any of his new-ish to make this a battle. On top of that, Swizz Beatz was getting all in Just Blaze face, pointing at him as if he were a battle rapper.
Many made the case that Just Blaze won the boards battle and we'd have to agree with them simply because BLAZE is a MONSTER with his fingers. Even though we chose a winner in this battle, the only true winner is Hip Hop. It was a great look for our culture and both men acknowledged each other at the end of the battle.
There were no fights, no bad intentions/ animosity whatsoever, just pure genuine Hip Hop for the people. Swizz Beatz made an announcement that there will be other producers going head to head in the future, and our question is: who would you like to see battle it out?
Pharrell Williams VS Timbaland would be a great match up even if they're from the same neck of the woods. Let us know who you'd like to see followed by your thoughts on who won this battle below.
Tonight's Zone was EPIC??????????? @justblaze VS @therealswizzz HIP HOP 2017 #ifhedieshedies?… https://t.co/GlQTVgcThn

— SWIZZ BEATZ (@THEREALSWIZZZ) February 25, 2017
we did it For the culture. @PharelI and @Timbaland up next. Cc @THEREALSWIZZZ pic.twitter.com/VlmUL7U1Mt

— Just Blaze (@JustBlaze) February 25, 2017
Like what you've read? Share it with your followers. Thank You