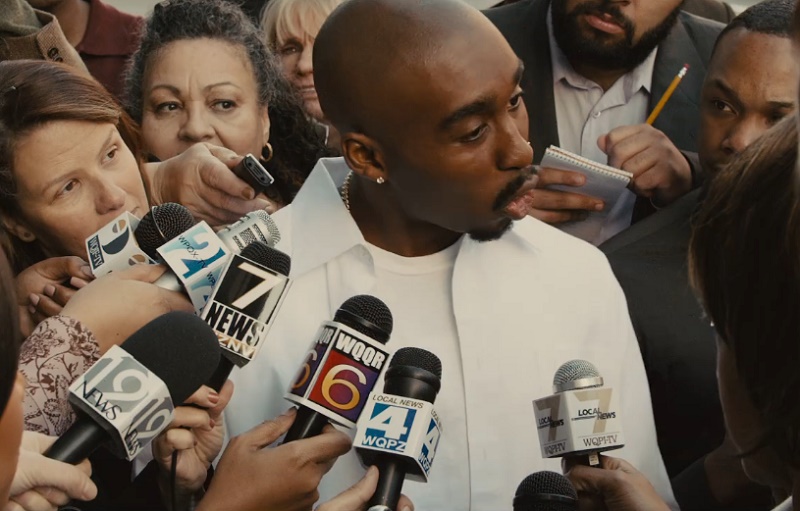 Highly anticipated biopic "All Eyez On Me" has released the fourth trailer today and it has 2pac fans eager to see this film come June 16th. Actor Demetrius Shipp Jr.,28, who portrays the role of (2pac) in upcoming film has received praise from director Benny Boom, rapper The Game, and a very selective few who had the privilege of watching the screening.
Fun Fact About All Eyez On Me Movie: This will be director Benny Boom's debut on the big screen as well as Demetrius Shipp Jr.'s. Boom told Billboard that the film we touch on 2pac's early beginnings being raised by two parents who were a part of the Black Panther party and how ultimately his elders made him into the revolutionary he was.
"We're starting from before he was born. His parents were Black Panthers. You see the struggles of his youth, his relationship with his mother, father figures that were in and out of his life, and what he ­developed into as a man from that. It humanizes him."
The Hip Hop director also stated that the film will tackle the sexual assault case that took place back in 1993. Tupac Shakur severed 9 months for something he's denied on many occasions. "That's a big part of his story, because [that conviction] completely changed his life. We don't sugarcoat things,".
Check out 2pac's new trailer for "All Eyez On Me" below, and let us know what you think.
Idk how to feel right now, this so crazy lol.

— Demetrius Shipp Jr (@Dshippjr) April 6, 2017
Don't miss your chance for advanced tickets to see #AllEyezOnMe June 16. Sign up for alerts https://t.co/ddnHWxmd5M https://t.co/8MV1v8i4ao

— All Eyez On Me (@alleyezmovie) April 6, 2017
Like what you've read? Share it with your followers. Thank You